Une escale en Berry
Noella welcomes you to the priory a recently renovated 19th century home. Recharge your batteries in the heart of Foëcy, a small town in Cher at the gateway of Sologne and the Berry Canal. You will enjoy the gentle pleasures of life in one of our four charming bedrooms for 2 to 4 people. With your family, among friends or solo, take advantage of the room and table d'hôte (dining facilites) on offer.

The traveller always comes to see, discover and enrich his imagination. But away from home he wants to break with his daily routine. He seeks a salutary stopover to relax and recharge before going back to the daily grind.

Set in a stunning landscape, the priory guesthouse « Une Escale En Berry » is ideally located in the department of Cher off the beaten tracks.

Close to the A71 (10 minutes), A20 and A85 the town of Foëcy promises wonderful encounters and surprising discoveries at the gateway of Sologne (500m bike ride from the Berry Canal and on the road to vineyards in the heart of France).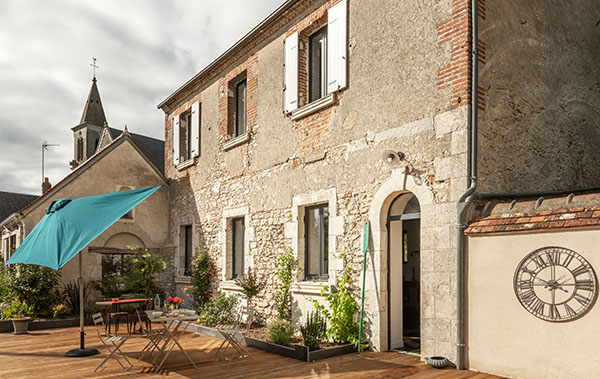 The Guesthouse
The guesthouse « Une Escale en Berry » contains 4 bright and charming bedrooms for 2 to 4 people. Each through its distinctive atmosphere evokes an aspiration to travel, an adventure at sea, exoticism, romanticism, ...
To know more
The Gîte : La Belle Echappée
La Belle Echappée, a family house synonymous of good living where the charm of traditional style combines with modern comfort. A stopover to discover the Quincy and Reuilly vineyards or to go for a bike ride along the Berry canal.
To know more

A peaceful island in Cher
A sailing and adventure enthusiast Noella left St Malo to live in Foëcy in Cher. In this small town of 2000 inhabitants she pursues a family tradition : welcoming guests. She has transformed an old priory into a peaceful idyll. The tastefully converted 19th century house in Berry combines subtle historical charm, restored antique furniture with colourful modern decor. Committed to an ecocitizen approach Noella has transformed her garden into a bird sanctuary (LPO : French League for the Protection of Birds) in order to preserve the local biodiversity. In this inspiring setting her guests can enjoy some quality time, cocooning and life's little pleasures in the countryside.

« Une Escale En Berry » Noella's guesthouse is an open invitation to rejuvenation in a preserved and warm environment. Feel free to live at your own pace and let your imagination run wild. Enjoy a motionless voyage in the garden surrounded by a stone wall. Wander in the welcoming countryside to discover the extraordinary wildlife of Berry. Ramble through these places full of mysteries where mystical souls look after treasures. Visit the symbolic sites in the Centre-Val de Loire region which still recounts the history of France. Find new playgrounds to keep fit. Succumb to the temptations of this generous land which knows how to cultivate its way of life.

As a family, a couple, solo or business traveller treat yourself to « Une Escale En Berry ». At the Foëcy priory venture into serenity and simply savour the moment.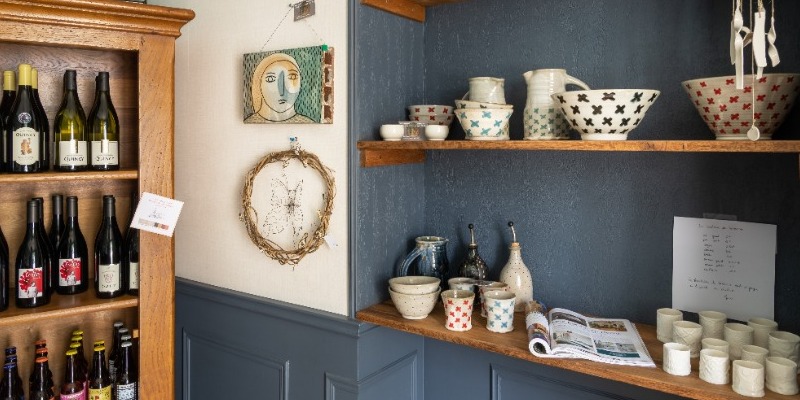 « La Boutique »
A selection of the products we serve at breakfast and dinner are for sale at the boutique/reception area together with some decorative objects made by local artists and craftsmen.
Photos of l'Escale En Berry